Our Coaching Staff
Developing Strong, technical and passionate players that will be involved in every facet of soccer excellence.
Technical Junior Director U8-U12
The club is delighted to retain A UEFA Licence coach Cristobal Soto.
Cristo ebodies our club's vision and plans in both Seniors and Juniors as we continue our growth.
"𝘈𝘧𝘵𝘦𝘳 𝘩𝘢𝘷𝘪𝘯𝘨 𝘤𝘰𝘯𝘷𝘦𝘳𝘴𝘢𝘵𝘪𝘰𝘯𝘴 𝘸𝘪𝘵𝘩 𝘎𝘦𝘰𝘳𝘨𝘦𝘴 𝘢𝘣𝘰𝘶𝘵 𝘵𝘩𝘦 𝘸𝘢𝘺 𝘧𝘰𝘳𝘸𝘢𝘳𝘥, 𝘐 𝘣𝘦𝘭𝘪𝘦𝘷𝘦 𝘵𝘩𝘦 𝘤𝘭𝘶𝘣 𝘪𝘴 𝘮𝘰𝘷𝘪𝘯𝘨 𝘪𝘯 𝘵𝘩𝘦 𝘳𝘪𝘨𝘩𝘵 𝘥𝘪𝘳𝘦𝘤𝘵𝘪𝘰𝘯. 𝘛𝘩𝘦 𝘳𝘦𝘤𝘦𝘯𝘵 𝘱𝘳𝘰𝘮𝘰𝘵𝘪𝘰𝘯 𝘰𝘧 𝘰𝘶𝘳 𝘴𝘦𝘯𝘪𝘰𝘳 𝘸𝘰𝘮𝘦𝘯 𝘢𝘯𝘥 𝘮𝘦𝘯 𝘱𝘳𝘰𝘨𝘳𝘢𝘮𝘴 𝘩𝘢𝘴 𝘣𝘦𝘦𝘯 𝘢 𝘣𝘭𝘦𝘴𝘴𝘪𝘯𝘨 𝘢𝘯𝘥 𝘵𝘩𝘦 𝘱𝘳𝘰𝘥𝘶𝘤𝘵 𝘰𝘧 𝘢 𝘭𝘰𝘵 𝘰𝘧 𝘩𝘢𝘳𝘥 𝘸𝘰𝘳𝘬 𝘧𝘳𝘰𝘮 𝘦𝘷𝘦𝘳𝘺𝘰𝘯𝘦, 𝘢𝘯𝘥 𝘩𝘢𝘴 𝘦𝘮𝘱𝘩𝘢𝘴𝘪𝘴𝘦𝘥 𝘵𝘩𝘦 𝘪𝘮𝘱𝘰𝘳𝘵𝘢𝘯𝘤𝘦 𝘰𝘧 𝘥𝘦𝘭𝘪𝘷𝘦𝘳𝘪𝘯𝘨 𝘤𝘰𝘮𝘱𝘦𝘵𝘪𝘵𝘪𝘷𝘦 𝘫𝘶𝘯𝘪𝘰𝘳 𝘵𝘦𝘢𝘮𝘴 𝘸𝘪𝘵𝘩 𝘢 𝘧𝘰𝘤𝘶𝘴 𝘰𝘯 𝘱𝘭𝘢𝘺𝘦𝘳 𝘥𝘦𝘷𝘦𝘭𝘰𝘱𝘮𝘦𝘯𝘵. 𝘐𝘵'𝘴 𝘣𝘦𝘦𝘯 𝘨𝘳𝘦𝘢𝘵 𝘸𝘰𝘳𝘬𝘪𝘯𝘨 𝘸𝘪𝘵𝘩 𝘓𝘦𝘪𝘨𝘩𝘵𝘰𝘯 𝘴𝘰 𝘧𝘢𝘳, 𝘢𝘯𝘥 𝘵𝘩𝘦𝘳𝘦'𝘴 𝘢 𝘤𝘭𝘦𝘢𝘳 𝘢𝘨𝘦𝘯𝘥𝘢 𝘵𝘰 𝘵𝘳𝘢𝘯𝘴𝘪𝘵𝘪𝘰𝘯 𝘫𝘶𝘯𝘪𝘰𝘳𝘴 𝘪𝘯𝘵𝘰 𝘴𝘦𝘯𝘪𝘰𝘳𝘴."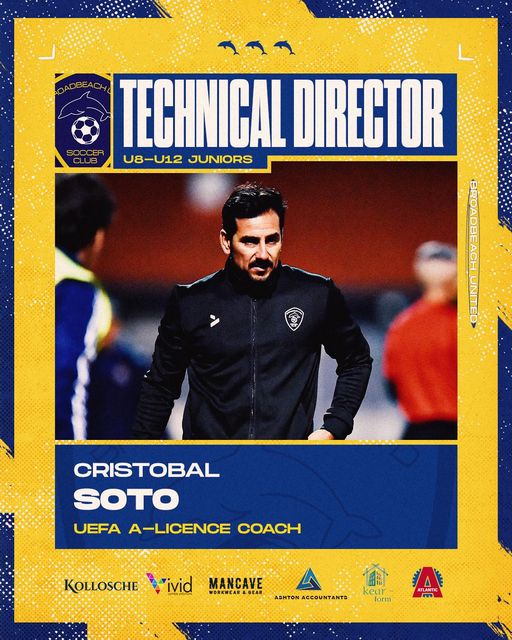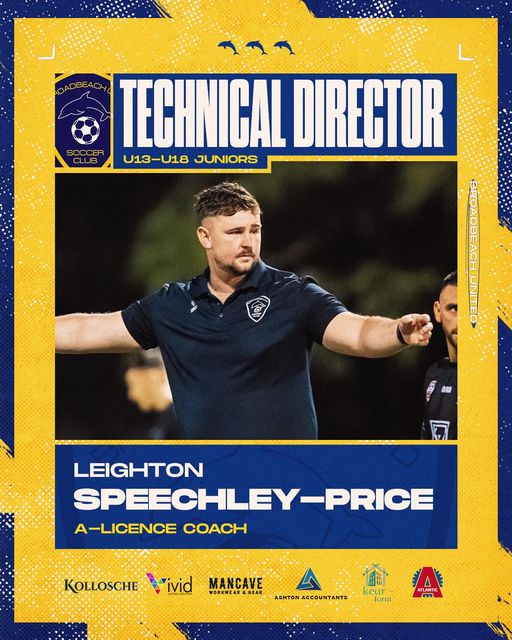 Technical Junior Director U13s-U18s
With the restructuring of the junior leagues by Football Queensland and the club's vision to keep developing its junior structure, the club is delighted to appoint A Licence Coach Leighton Speechley-Price as the new Technical Junior Director overseeing U13s to U18s.
"𝘐'𝘮 𝘭𝘰𝘰𝘬𝘪𝘯𝘨 𝘧𝘰𝘳𝘸𝘢𝘳𝘥 𝘵𝘰 𝘩𝘢𝘷𝘪𝘯𝘨 𝘵𝘩𝘦 𝘰𝘱𝘱𝘰𝘳𝘵𝘶𝘯𝘪𝘵𝘺 𝘵𝘰 𝘸𝘰𝘳𝘬 𝘸𝘪𝘵𝘩 𝘵𝘩𝘦 𝘺𝘰𝘶𝘵𝘩 𝘢𝘵 𝘉𝘳𝘰𝘢𝘥𝘣𝘦𝘢𝘤𝘩 𝘢𝘯𝘥 𝘵𝘰 𝘱𝘳𝘰𝘷𝘪𝘥𝘦 𝘢 𝘤𝘭𝘦𝘢𝘳 𝘱𝘢𝘵𝘩𝘸𝘢𝘺 𝘪𝘯𝘵𝘰 𝘴𝘦𝘯𝘪𝘰𝘳 𝘱𝘳𝘰𝘨𝘳𝘢𝘮𝘴 𝘵𝘩𝘳𝘰𝘶𝘨𝘩 𝘵𝘩𝘦 𝘪𝘯𝘵𝘦𝘨𝘳𝘢𝘵𝘪𝘰𝘯 𝘰𝘧 𝘵𝘩𝘦 𝘺𝘰𝘶𝘵𝘩 𝘢𝘯𝘥 𝘴𝘦𝘯𝘪𝘰𝘳𝘴 𝘸𝘰𝘳𝘬𝘪𝘯𝘨 𝘵𝘰𝘨𝘦𝘵𝘩𝘦𝘳 𝘵𝘰 𝘱𝘳𝘰𝘷𝘪𝘥𝘦 𝘢 𝘩𝘪𝘨𝘩-𝘲𝘶𝘢𝘭𝘪𝘵𝘺 𝘦𝘯𝘷𝘪𝘳𝘰𝘯𝘮𝘦𝘯𝘵 𝘧𝘰𝘳 𝘰𝘶𝘳 𝘺𝘰𝘶𝘯𝘨 𝘱𝘭𝘢𝘺𝘦𝘳𝘴 𝘵𝘰 𝘥𝘦𝘷𝘦𝘭𝘰𝘱 𝘢𝘯𝘥 𝘱𝘦𝘳𝘧𝘰𝘳𝘮 𝘪𝘯. 𝘉𝘳𝘰𝘢𝘥𝘣𝘦𝘢𝘤𝘩 𝘪𝘴 𝘢𝘯 𝘢𝘮𝘣𝘪𝘵𝘪𝘰𝘶𝘴 𝘤𝘭𝘶𝘣 𝘸𝘪𝘵𝘩 𝘩𝘪𝘨𝘩 𝘢𝘴𝘱𝘪𝘳𝘢𝘵𝘪𝘰𝘯𝘴 𝘢𝘯𝘥 𝘵𝘩𝘦 𝘧𝘰𝘶𝘯𝘥𝘢𝘵𝘪𝘰𝘯 𝘪𝘴 𝘰𝘶𝘳 𝘺𝘰𝘶𝘵𝘩, 𝘴𝘰 𝘐 𝘤𝘰𝘶𝘭𝘥𝘯'𝘵 𝘣𝘦 𝘮𝘰𝘳𝘦 𝘦𝘹𝘤𝘪𝘵𝘦𝘥 𝘵𝘰 𝘣𝘦 𝘸𝘰𝘳𝘬𝘪𝘯𝘨 𝘪𝘯 𝘵𝘩𝘪𝘴 𝘳𝘰𝘭𝘦."